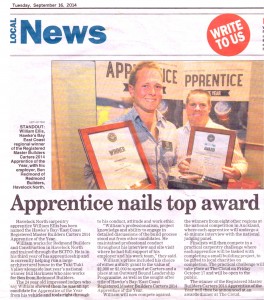 Apprentice nails top award Havelock North carpentry apprentice William Ellis has been named the Hawkes Bay East Coast Registered Master Builders Carters 2014 Apprentice ofthe Year.
William works for Redmond Builders and Construction in Havelock North and trained through the BCITO. He is in his third year of his apprenticeship and is currently helping run a large architectural house in the Tuki Tuki Valley along side last years national winner Bill Harkness who also Works for Ben from Redmond Builders. The 24 year old impressed judges who say William showed them he was an apt candidate for Apprentice of the Year from his vehicle and tools right through to his conduct, attitude and work ethic.
Williams professionalism, project knowledge and ability to engage in detailed discussions of the build process stood out from other candidates. He maintained professional conduct throughout his interview and site visit Where he had full support of his employer and his work team, they said. William's prizes included his choice of either a study grant to the value of $2,000 or $2,000 to spend at Carters and a place at an Outward Bound Leadership Programme, as well as the sought-after title of Hawkes Bay / East Coast Registered Master Builders Carters 2014 Apprentice of the Year.
William will now compete against the winners from eight other regions at the national competition in Auckland, where each apprentice will undergo a 45-minute interview with the national judging panel. Finalists will then compete in a practical carpentry challenge where each apprentice will be tasked with completing a small building project, to be gifted to local charities on completion. The practical challenge will take place at The Cloud on Friday October 17 and will be open to the public. The winner of the Registered Master Builders Carters 2014 Apprentice of the Year will then be announced at an awards dinner at The Cloud.